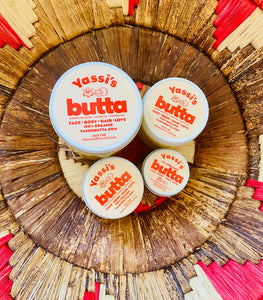 INGREDIENTS: Cocos nucifera (Extra Virgin Coconut) oil*, Butyrospermum parkii (Yellow African Shea) butter, Helianthus annuus (Sunflower) seed oil*, Calendula officinalis flower extract*, Simmondsia chinensis (Golden Jojoba) oil*, Punica granatum (Virgin Pomegranate) seed oil*, dl-alpha-tocopheryl acetate (Vitamin E), Citrus reticulata blanco (Tangerine essential oil), Citrus paradisi (Grapefruit essential oil), Lavandula angustifolia (Lavender essential oil)*, Citrus limon (Lemon essential oil)*, Eucalyptus globulus essential oil, Boswellia serrata (Frankincense essential oil), Melaleuca alternifolia (Tea Tree essential oil)*. *Organic Ingredients

Benefits:
Coconut Oil helps alleviate eczema, psoriasis or severe dryness, and acne. Natural cleanser & sunscreen SPF 4-5. Great for hair and dry scalp, tames frizzy hair, adds natural shine. 

Yellow African Shea Butter helps relieve eczema, moisturizes skin, boosts collagen production, fades scars and stretch marks, reduces inflammation. Natural sunscreen SPF 4-6.
Sunflower Seed Oil-Made for all skin types, this beauty oil is packed with Vitamins A, D & E to help lighten dark spots & pimple marks, diminish fine lines & dry patches, improve the appearance of scars & stretch marks, and so much more! It's also an essential for promoting hair growth and preventing breakage.
Calendula Flower Extract is an anti-fungal, anti-inflammatory, and antibacterial oil which can help sooth eczema and relieve diaper rash. Calendula can also help speed up the healing process of blemishes and acne scars. 

Jojoba Oil has anti-inflammatory properties which help tame chaffing and chapping, reduce redness caused by dryness, ease the effects of eczema and rosacea, and keep skin calm and comfortable. 
Pomegranate Oil has unique omega-5 fatty acid, punicic acid, which offers potent anti-inflammatory properties gives the oil the ability to fend off free radicals that can cause damage inside and out, including helping to slow skin aging and providing protection against sun damage. 
Vitamin E Oil is an antioxidant that helps diminish scars and the healing process. Also, great for eczema, psoriasis, and anti-aging. 
Essential Oils:

Tangerine is a great remedy for acne and skin impurities. Tangerine essential oil also works for hair because of its antiseptic properties and helps treat dandruff, and dry scalp. An aromatherapy oil that can help uplift your spirits! 
Grapefruit helps treat acne and prevent oily skin. It's also known to help reduce the appearance of cellulite. An aromatherapy oil that can help lift your mood! 
Lavender helps with acne flair up, sunspots, itchy skin caused by eczema and insect bites. An aromatherapy oil thats great for calming the nerves! 
Lemon is a natural detoxifier and contains antiseptic properties that aid in clearing up pimples and acne. Lemon also tightens the skin, preventing wrinkles, and removes excess oils that clog pores and cause blackheads. Also great for fading scars, age spots and even freckles....lightening and brightening skin. An aromatherapy oil that is refreshing and an energizing scent! 

Eucalyptus  can help stimulate hair follicles. Also excellent for congestion, sinus, skin (acne, skin irritation, blisters, minor cuts and wounds & insect bites), arthritis & muscle pain. An aromatherapy oil thats very soothing and relaxing! 
Frankincense has natural anti-inflammatory properties that helps with rheumatoid arthritis. Helps heal skin and prevents signs of aging. An astringent that can kill harmful germs and bacteria.
Tea Tree Oil is a popular choice for treating acne. Great for reducing scarring and thought to calm redness, swelling and inflammation. 
High-quality oils melt at 76 degrees. Enjoy melty in warmer months or store in a dry cool place and or refrigerate as a solid.  If refrigerated, bring to room temperature before using so the Butta scoops out smoothly.