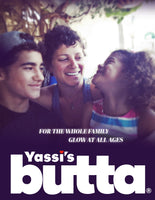 All About The Butta...
Plant-based & Organic Salve! For all genders, all ages, all skin & hair types. 
This is a mama's story...
Yasmin has two children (black/persian/white) with different hair and skin needs. She realized after her daughter was suffering from severe eczema she needed to make her own organic remedy. So she got cooking in her kitchen, and Yassi's Butta was created. Yasmin has perfected a blend of moisturizing oils that can be used on your face, body and hair. It helped get her daughter off very expensive cortisone creme, and it also aided with her son's acne, dry hair & scalp. For her glowing skin and hair, Yassi applies it every morning and night. It relieves dryness without feeling greasy and can be used on every member of the family. For all-over body love, it's perfect for massages or a dollop in your bath. Yassi's Butta is smooth, gentle, soothing, and smells like a spa! We like to call it the "Everything Butta!"  
Keep it smooth!  💛
You can follow us on instagram @yassisbutta for any updates or upcoming events. 
#ForEveryoneEverythingEverywhere